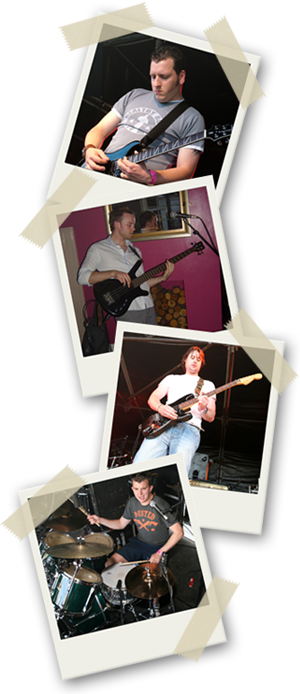 Welcome to the new Scratch web site
Scratch is an original Hemel Hempstead based rock band performing a number of popular covers/original gigs around Hertfordshire and the London area.
The band have been together since 2001 with Iain Dodd and Scott Aubrey being the founding members who have known each other for around 30 years. They both learnt how to play at secondary school in Hemel Hempstead and that's where they met Russell Howe, a drummer who had been playing from about 10 years old. They started as a band called "Format" - the name was discovered on the front of an oven in Scott's kitchen. Needless to say they were pretty awful at first but persevered! The band split when all the members left school but all stayed friends and always kept in touch with each other, even when Iain moved down to the coast for a few years but he couldn't stay away from his friends and family for too long and moved back up to Hemel Hempstead.
After a few years of being in various bands Scott and Iain decided to team up again and form Scratch. At first they played only original material around St Albans and Hertfordshire but then wanted to give the world a covers band that would try and break the mould. After a few years of hard work they got a reputation for being one of the south of England's top bands and the name keeps growing at every gig.
After the original drummer left the band Iain and Scott had a chat with Russell (who had been dabbling in DJing) who wanted to get back with the boys and Russell has never looked back. The band's bass player Dan had been with Scratch a good few years and helped develop the band's sound but when he graduated from music college he decided to live in France to bum around for a few years.
So in stepped Martin Anderson, a good friend who was in a previous band with Iain a few years before. Martin did brilliantly with the guys and they really loved playing with him but he was building a fantastic career in the police force and had to step back due to shift patterns and was moving out of the area. So Iain then had to hunt for someone to fill his rather large shoes.
Then one day when Iain was at a party with a live band he spied the bass player that had it all and after a chat and a few phone calls Ed joined the band thus putting in the final piece of the jigsaw.
So ladies and gentlemen we give you.....Scratch.
Take a look around the site. Listen to some of our original sound clips. Why not get involved and join Scratchmail for free or add an entry in the guestbook? Tell us about yourself ...We want to hear from you so contact us.